Brenda Smith: Why the Harney County Way is Worth Celebrating and Emulating
We don't build connections and strengthen the fabric of our community by holding meetings, we do it by building connections one person at a time.
Harney County is a special place
Just to set the stage, Harney County is big country—over 10,000 square miles—in the middle of the sagebrush sea of the Great Basin in southeast Oregon. With the spring runoffs, the Basin floods and is a crucial resting and replenishing stopover on the migratory route for birds on the Pacific Flyway. Situated in this big country are give-or-take 7,400 people—scattered about, carving out our lives in this beautifully stark landscape.
Fair parade. Photo taken by Sherri Johnson. Note this is from a previous fair.
The Harney County Fair and Rodeo is nearing it's 100-year anniversary (96th to be exact), and by "hook or crook" it happened again this weekend—one of the last fairs in the state's line up –"first weekend after Labor Day." It was one of the few fairs not cancelled in Oregon this year.
With a little trepidation and with a much different feel than any of the fairs I have attended in the last 12 years, I took up my volunteer post at the flower exhibit. Always dicey, Harney County is not known as the garden spot of Oregon and any flower entered into our fair is a true bright spot, winning out over deer, drought, hail, wind, and less than welcoming soil. Having found a way to survive, each flower deserves to be celebrated and we could all use an excuse to cheer these days.
The county fair is a big deal in Harney County. With ranches over 100 miles from the fairgrounds, this has always been a time for folks who have been putting up hay all summer, caring for their livestock, and generally tending to their places to all come to town for a couple of days to catch up and catch their breath. More now than ever this seems needed.
Losing the fair would have felt like losing a part of our collective soul. A few years ago, during a water planning collaborative meeting everyone was asked what they would like Harney County to be in 30 years. I was really trying to put my finger on how to answer that question and when it came down to me, I said "I would still like the county fair going strong in 30 years." And ever since then, I decided I better do my part while I can and maybe be around to celebrate that fair in 30 years.
What is the Harney County Way?
I'm not the only one here that is committed to doing my part. It's seems to be in our soil. Folks here don't wait for others to do their part, instead it's expected that everyone steps up and helps out. And, the results from this approach have rightfully caught the attention of other Oregonians. Over the last few years, I have been asked, "What is it about Harney County? What is the secret sauce to collaboration? What is the Harney County Way?"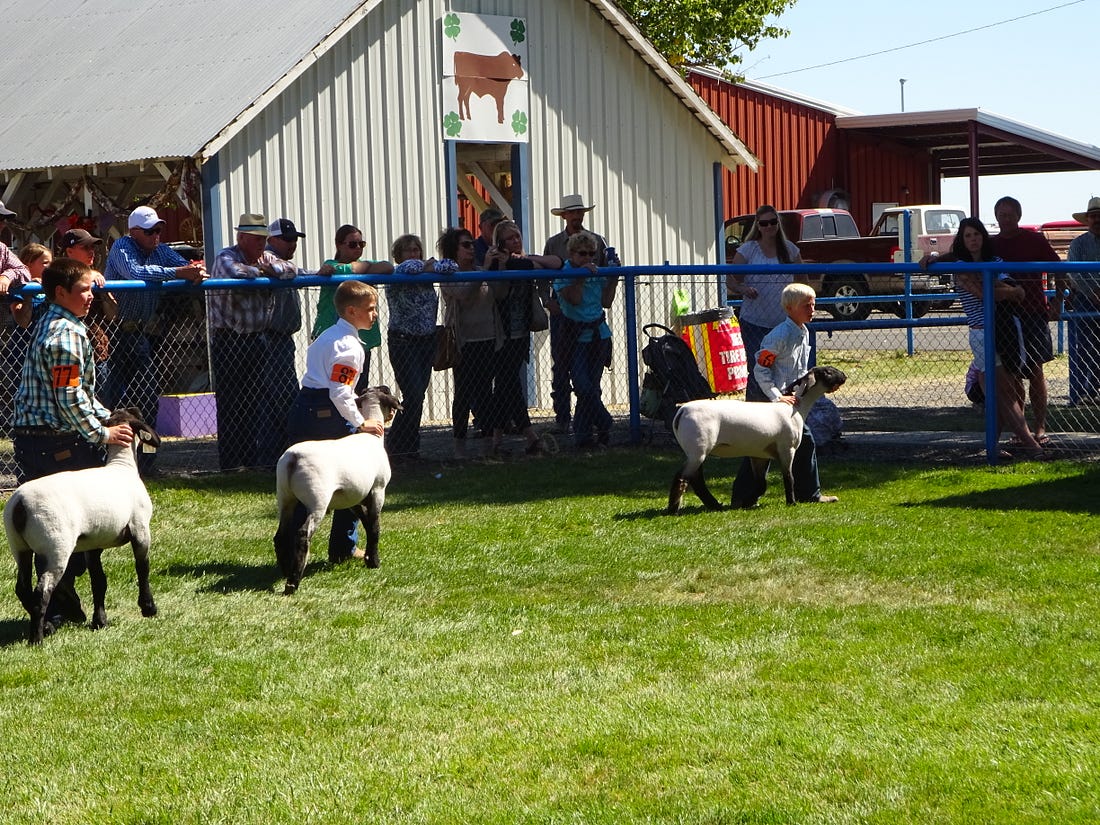 Fair Judging. Photo taken by Sherri Johnson. Note this is from a previous fair.
Our county fair is a snapshot of what it means to say "the Harney County Way." A county fair is about celebrating the community, showcasing and supporting our youth, grieving losses of the past year and putting aside a disagreement or two to put on an event that brings together a community for a couple days each fall. This is the ultimate example of coming together, working together and finding our common ground—the fair makes this "togetherness" possible and propels us for the rest of the year.
Finding our common ground at the fair this year felt different than ever before. Just the decision to host the fair was divisive—some feeling it was reckless, others feeling the pain of so much lost this year that anything for a sense of normalcy was the goal.
But as we tend to do in Harney County, we put our heads down and made something happen amid a pandemic and devastating wildfires. We do this because we care deeply for Harney County and we know that we have to depend on each other.
The future of our rural way of life depends on us working together and we know that this doesn't happen by calling a meeting and saying we are collaborating. Process is important, but it's the results that matter. We don't build connections and strengthen the fabric of our community by holding meetings, we do it by building connections one person at a time, and the fair is the best place to make and rekindle our connection to community. From the 6 am cup of coffee and steak and pancakes at the Cattlewomen's Breakfast to the last call after the rodeo. We can't solve problems through collaboration until we come together across our differences for the greater good. This is the Harney County Way, and it can be the Oregon Way.